About The Island Resort
A landmark to generations of fun. Inspired by its location, The Island represents a place where once you arrive, you never have to leave.  No other resort in the area offers the sheer variety of amenities that make a beach vacation as seamless, which allows for authentic, effortless moment-to-moment fun.
Our Beginnings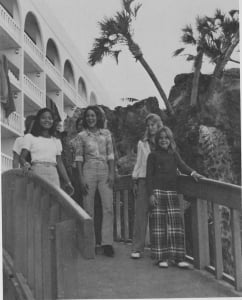 Since 1966, the Ramada was an iconic symbol on the Panhandle of Florida, where friends and family enjoyed time together. The hotel was equally famous for its laid-back brand of hospitality and expansive footprint on Okaloosa Island, as well as for the innovations it pioneered over the decades to deliver exceptional guest experiences. Developed by Fred E. Tolbert, Jr., a longtime resident of Fort Walton Beach and Destin, Florida, the Ramada surprised and delighted generations of travelers with its creatively themed dining outlets, robust offerings of amenities, and the famous Grotto Pool complete with a swim-up bar. Over the years, the resort has borne witness to celebrations of all kinds including weddings, anniversaries, birthdays and honeymoons, which made the Ramada a destination where good times and priceless memories are created daily.
An Icon Reimagined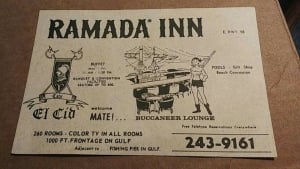 At the beginning of 2018, a comprehensive remodel of the property began which included a completely reconceived entrance and lobby, upgraded and expanded beach bar, a spectacular renovation of the Oasis Room and a newly constructed Cabana. The mighty Grotto Pool was refinished, with added features and sparkle. A new signature restaurant, Coastal Kitchen, combines delicious dishes of comfort food with the freshest selections from both the land and the sea. The Island Market introduced a wonderful retail option for guests with easy to pack snacks, assorted beverages, beach essentials, and a carefully chosen collection of souvenirs. 
Ten model rooms were designed, each with a sleek, modern look that still preserves a beach vibe, in preparation for a full-scale guest room renovation which began in the Fall of 2018.
Perhaps the most significant change involved the name and brand. Along with all the property enhancements, it became apparent the hotel should upgrade its identity and marque. Bidding goodbye to Ramada, The Island Resort made its debut in May 2018.
You're Not Just Staying Here. You're at Home
We invite you to join us on this journey as we continue to create one-of-a-kind signature moments and memories to last a lifetime—all served up on 600 feet of pristine sugar-white sand with spectacular views of that famous crystal clear emerald green water. It's time to write your own vacation story with us.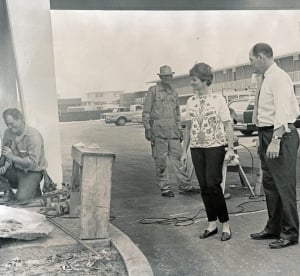 Happening At The Island Resort
Dive in: Monday Night Football Pool Side

Watch MNF poolside!

Cabana Pool

|

7:00 PM - 10:00 PM

Live Music 4-6pm

Enjoy Live music at the Tripp Tide Bar! Pending weather. 10/3/2023 Daniel Boone 4-6pm
10/5/2023 Ricardo Esguerra 5-9pm
10/6/2023 Ryan Stroud 6-10pm
10/7/2023 DJ One 6-10pm
10/8/2023 Daniel Boone 5-9pm
10/9/2023 Ricardo Esguerra 5-9pm
10/10/2023 Jae Rich 6-9pm
10/11/2023 Ricardo Esguerra 5-9pm
10/12/2023 Jamah 6-9pm
10/13/2023 DJ One 6-10pm
10/14/2023 Second Breakfast 6-10p
10/20/2023 Ryan Stroud

Tripp Tide Bar

|

4:00 PM - 6:00 PM

Singo! Music Bingo Tuesday

What's Singo? It's like bingo, but with music! Play for in house prizes! Free to play

Lobby Bar

|

6:00 PM - 8:00 PM

Live Music 6-9pm

Enjoy Live music at the Tripp Tide Bar! Pending weather. 10/3/2023 Daniel Boone 4-6pm
10/5/2023 Ricardo Esguerra 5-9pm
10/6/2023 Ryan Stroud 6-10pm
10/7/2023 DJ One 6-10pm
10/8/2023 Daniel Boone 5-9pm
10/9/2023 Ricardo Esguerra 5-9pm
10/10/2023 Jae Rich 6-9pm
10/11/2023 Ricardo Esguerra 5-9pm
10/12/2023 Jamah 6-9pm
10/13/2023 DJ One 6-10pm
10/14/2023 Second Breakfast 6-10pm
10/20/2023 Ryan Strou

6:00 PM - 9:00 PM

Dive In Movie

Join us for a fun, family-friendly movie projected onto our giant inflatable screen by the Cabana Pool.

Cabana Pool

|

8:00 PM - 10:30 PM

Live Music 5-9pm

Enjoy Live music at the Tripp Tide Bar! Pending weather. 10/3/2023 Daniel Boone 4-6pm
10/5/2023 Ricardo Esguerra 5-9pm
10/6/2023 Ryan Stroud 6-10pm
10/7/2023 DJ One 6-10pm
10/8/2023 Daniel Boone 5-9pm
10/9/2023 Ricardo Esguerra 5-9pm
10/10/2023 Jae Rich 6-9pm
10/11/2023 Ricardo Esguerra 5-9pm
10/12/2023 Jamah 6-9pm
10/13/2023 DJ One 6-10pm
10/14/2023 Second Breakfast 6-10p
10/20/2023 Ryan Stroud

Tripp Tide Bar

|

5:00 PM - 9:00 PM